Several blocks uptown on Bowery (and notably, north of Houston), Target opened its new East Village location with a temporary storefront emulating that of the long shuttered "birthplace of punk," CBGB.
Playful homage or sacrilege? Personally, I think it's the former, but many, including the blog Jeremiah's Vanishing New York, believed, "they have committed what might be the most deplorable commodification of local neighborhood culture I've ever witnessed."*
Has punk rock become so sacred that it is now heresy to toy with one of its historical sites? How un-punk is that?
It's not like CBGB itself has not long commodified itself. Just months after closing CBGB at 315 Bowery in late 2006, owner Hilly Kristal opened a storefront a few blocks away at 23 St. Marks Place to sell CBGB merchandise, including the ubiquitous CBGB t shirts, along with baby bibs, doggie clothes and even shower curtains. In 2005, the last full year the club was open, Kristal sold over $3 million of merchandise. (I have my t-shirt, bought at a friend's band's gig there, and belt buckle, bought long after it closed.) Although retaining the outward appearance of a historical marker, the current CBGB website exists primarily to sell club merch (alas, the shower curtains are no longer available).
Cue the outrage, even from the Old Gray Lady, hardly an early supporter, never mentioning CBGB, or even punk rock, until 1980, long after the club opened in 1973 and started booking (soon to be labeled) punk bands in 1974.
But wait, there's more! Kristal initially planned to move CBGB, lock, stock and urinal, to Las Vegas:
We want to take a lot of this stuff with us, and I think we're going to move to Las Vegas. . . . [The Vegas CBGB] won't be the same size or the same shape, but I am going to have all the things that matter there. I am taking the bars with me, I am taking the stage — I'm taking the urinal that Joey [Ramone] pissed in with me. I'm going to take a lot of things — anything that makes this place CBGB.

I'll make it CBGB, and even more so.
The simulacrum would become more real than the real.
That never happened. Instead, John Varvatos moved into 315 Bowery, preserving, under glass, the club's, let's call it, "distressed" decor.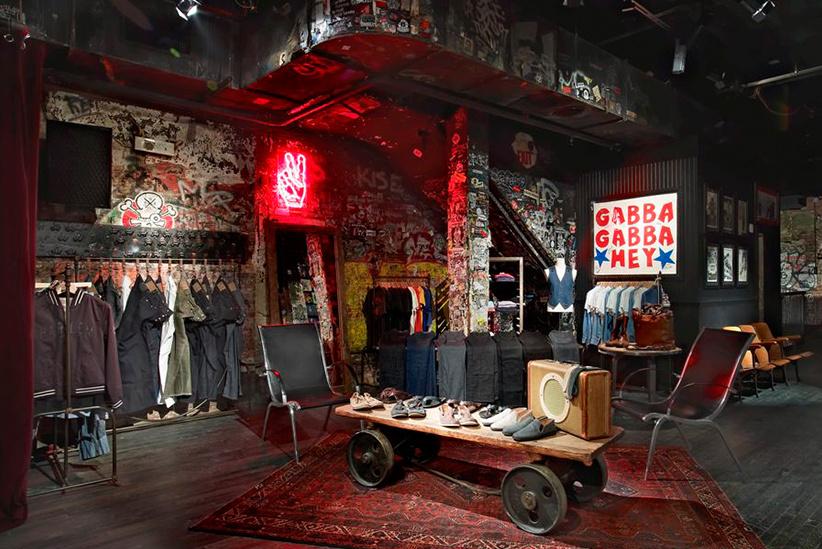 The urinal ended up in the Rock & Roll Hall of Fame's New York Annex, just outside the museum's real bathroom. Marcel Duchamp must be smiling.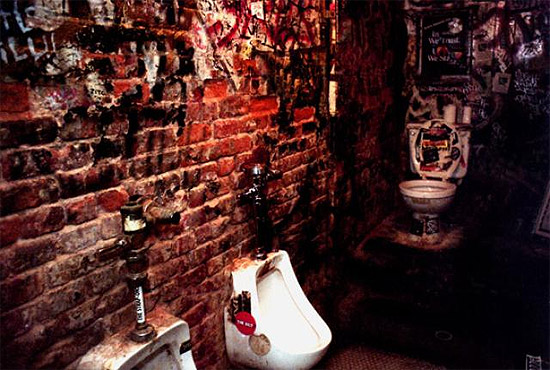 I'm not sure where the fixture ended up after the Annex closed just over a year later.
Has anyone checked the restrooms at Newark Airport, where the CBGB LAB (Lounge and Bar) opened in 2015?
(Gotta love the generic EDM-lite Holt Construction Corp chose to showcase their recreated punk club.)
The bar and lounge has got a pretty lousy Yelp rating. How punk!
That's a pretty amazing legacy for a club that never intended to book punk rock in the first place. Those initials on those CBGB OMFUG t-shirts stand for Country, BlueGrass, Blues, and Other Music for Uplifting Gourmandizers.
In an upcoming post I will look at the idea of punk in museums overall.
---
* Target played it safe and issued an apology:
We often host a one-day celebration that shows the neighborhood how excited we are to be part of their community. We sincerely apologize if some eventgoers felt it was not the best way to capture the spirit of the neighborhood. We always appreciate guest feedback and will take it into consideration as we plan for future opening events.